Ftarri / Ftarri Festival
Ryu Hankil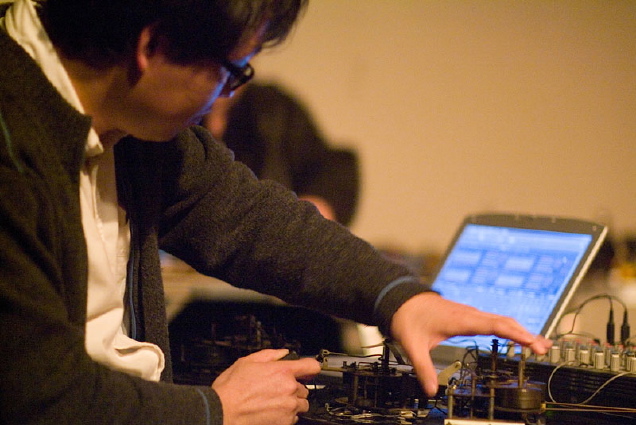 photo Cho Suk
Ryu Hankil was born in 1975 in Seoul, South Korea. He worked for about two years as a professional graphic designer. Hankil was a keyboard player in two famous Korean indie pop groups, but eventually left the groups because he was tired of typical music making and sounds. Then he started his own solo electro pop project, Daytripper, and released two solo albums, A Collector (2001) and Brownpaper (2004).
When he made Brownpaper, Hankil collaborated for the first time with the Korean noise/improvisation duo Astronoise. At that time, he saw a concert by Otomo Yoshihide, Sachiko M, Axel Dörner, and Taku Unami in Seoul. He changed his musical instrument and concentrated more and more on improvised music. Hankil has organised a monthly event called RELAY since 2005. He established his own publishing office called Manual, and releases improvised music and magazines.
About the instrument
Hankil uses clockworks as an instrument. He is interested in finding musical structures and so on in the vibration of objects. He focuses on using non-instruments--abandoned objects like old telephones and typewriters.
---
Last updated: March 26, 2008
---
Ftarri home
Ftarri Festival Kyoto home
Ftarri Festival Tokyo home