Ftarri / Ftarri Classical
Masamichi Kinoshita
Study in Fifths I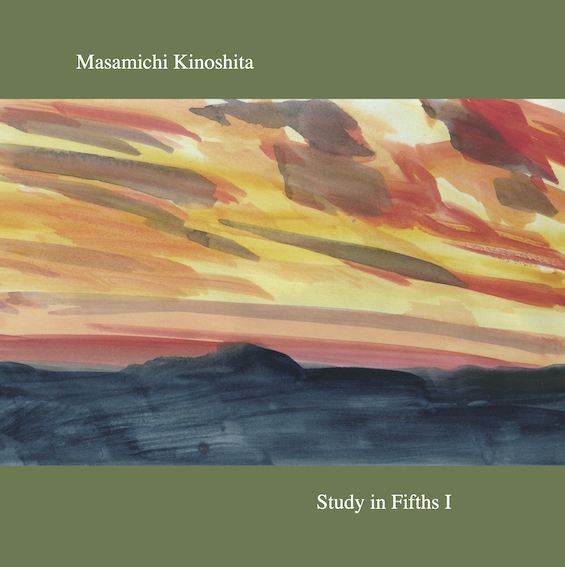 CD
ftarricl-664
Limited edition of 200
Out on October 31, 2021
Ftarri Bandcamp
---
Study in Fifths I (for two flutes, keyboard and electronic sounds) (59:44)

mp3 excerpt: track 1
Masamichi Kinoshita: harmonium, electronics

La Soeur
Airi Kasahara: flute
Seira Murakami: flute
Composed by Masamichi Kinoshita
Recorded live on the concert series Ftarri's Harmonium Vol. 5 at Ftarri, Tokyo, July 3, 2021
Recorded and mastered by Ftarri
Artwork/design and translation by Cathy Fishman
---
First, the background electronic sounds are all decided on the basis of prime numbers and pi. The total performance time is 3,559 seconds. The pitch is set at A=442. Five-note intervals (fifths) are taken above and below, and these are replaced by prime numbers of approximate value to form the basic pattern.

Next, pi is divided into two-digit segments. The remainders of these segments divided by 11 are used as a substitute sequence, and the ways in which this shifts the basic pattern (pitch changes, duration of sustained sound, duration of rests) are determined.
For the flutes and keyboard, 47 measures containing brief sound patterns (with intervals based on the above mentioned fifths) are performed independently and read in the form of a whirlpool. The four-page score is performed in the order [1-2-3-4-3-2-1]. The whirlpool configuration differs in the first and second parts. (Masamichi Kinoshita)
---
Contemporary classical composer Masamichi Kinoshita was born in 1969 in Ono, Fukui Prefecture. He currently lives in Tokyo. Kinoshita regularly performs at Ftarri in Suidobashi, Tokyo. In February 2020 he held the first concert in the series "Ftarri's Harmonium," featuring the harmonium housed at Ftarri. The series has since continued at a rate of one concert every few months; the fifth was held on July 3, 2021. In each concert, Kinoshita (on harmonium) performs his own compositions, along with several invited guest musicians.

In concert number five, his guests were La Soeur, the flute duo of Airi Kasahara and Seira Murakami. The two have a strong connection, partly due to of the similarity of their backgrounds: a year apart in age, both were born in the Tohoku region (Kasahara in Miyagi Prefecture and Murakami in Akita Prefecture) and graduated from the Culture/Arts Course of Yamagata University's Faculty of Education. While also performing and recording individually and teaching flute, they continue their duo project La Soeur.

At the fifth concert, three works by Kinoshita were performed. This CD is a recording of the longest of the three, which was the last to be performed: "Study in Fifths I (for two flutes, keyboard and electronic sounds)" [59:44]. The mystical and gentle sound of Kinoshita's harmonium and electronics expands through the space, and La Soeur's flutes come in and produce sound that seems to revolve around and around as it reverberates. An hour in length, this large-scale work is a profound and mysterious masterpiece.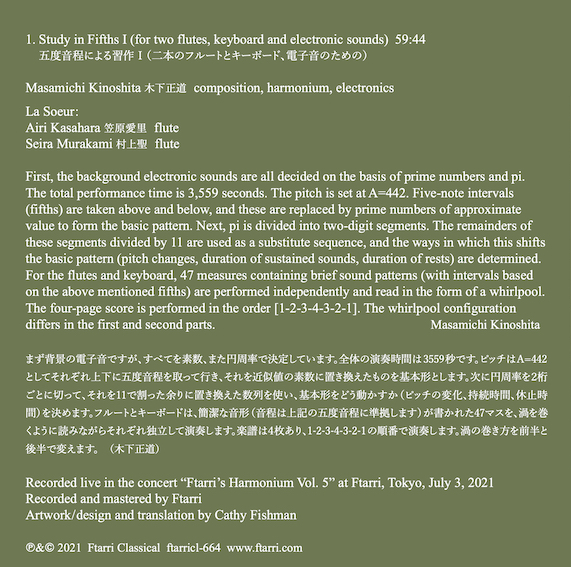 ---
Last updated: October 31, 2021
---