Ftarri / Ftarri Classical
Masamichi Kinoshita
Andersen's Swan Song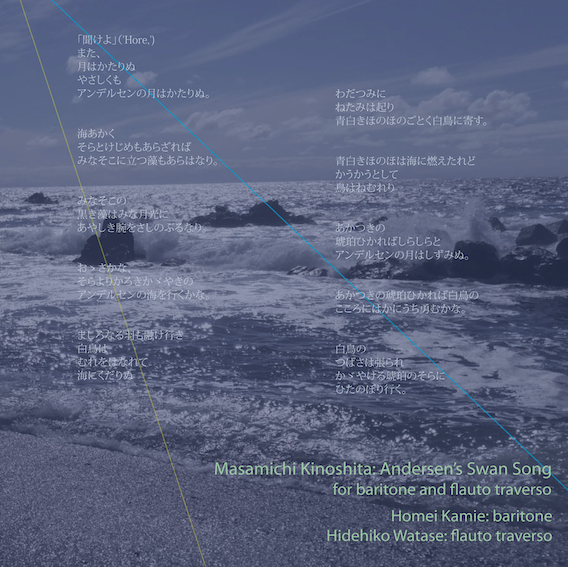 CD
ftarricl-665
Limited edition of 250
Out on September 12, 2021
Ftarri Bandcamp
---
Andersen's Swan Song (41:34)
for baritone and flauto traverso
from a poem by Kenji Miyazawa

mp3 excerpt: track 1
Homei Kamie: baritone
Hidehiko Watase: flauto traverso
Composed by Masamichi Kinoshita in 2011 on a commission by image/air (Ippei Hosokoshi)
Premiered at "Sonorous Solitude / Hidehiko Watase Solo Flute Recital," produced by image/air
Recorded by Ippei Hosokoshi at Yodobashi Church, December 1, 2012
Mastered by Hiroyuki Ura
Design by Masamichi Kinoshita
Liner notes by Masamichi Kinoshita (translation by Cathy Fishman)
Dedicated to the memory of Homei-san
---
I composed this piece in 2011 on a commission for the concert "Sonorous Solitude / Hidehiko Watase Flute Solo Recital," produced by image/air_ (Ippei Hosokoshi). The conditions were that the piece should be as long as possible and written for baritone (Homei Kamie) and flauto traverso (Hidehiko Watase), and that I could use any lyrics Iliked. Simply put, the flauto traverso is an ancestor of the contemporary flute. First, Watase-san told me about the instrument's characteristics. I was very interested in its special qualities, which are quite different from those of an ordinary flute, and made a point of incorporating these merits in the composition. In particular, I made extensive use of a playing technique that causes the sound to waver slightly in a ripple-like way. (This is possible with a normal flute, too, but I think that with the traverso it produces a more direct, profound feeling.)
As for the lyrics, just when I was thinking of writing a piece with the ocean as itstheme--partly because the Tohoku earthquake and tsunami had happened that year--I came across "Andersen's Swan Song," a serial tanka poem written by a young Kenji Miyazawa. This tanka was based on "Twenty-eighth Evening" in Hans Christian Andersen's A Picture-book without Pictures. In this short story, written from the moon's point of view, a swan that seems to be tired from its journey glides down to a moonlit ocean at night, floats on the surface, and resumes its flight when the sun comes up. In the music, I depicted the scene in a general way through long solo parts on flauto traverso and a song performed by the baritone in between. Another important focus was exploring the power of the actual intertwining of sound and words. I also hoped, in composing this piece, that it would create a space that deviates slightly from everyday life and produce a palpable feeling of a place seldom seen, combining repose and anxiety--just like an ocean where a swan would come down to rest.
Sadly, Homei Kamie, who sang in the premiere of this piece, passed away in 2015. This CD is dedicated to his memory. (Masamichi Kinoshita)
---
The second release on the Ftarri sublabel Ftarri Classical, which specializes in composed pieces in the contemporary classical genre, is a work written by Masamichi Kinoshita. Born in 1969 in Ono City, Fukui Prefecture, Kinoshita is a contemporary classical composer currently based in Tokyo. In addition to composing, he performs improvisation using electric devices, and organizes concerts. Kinoshita has performed a number of times at Ftarri (in Tokyo) and previously released two CDs made up of performances held at Ftarri: Electric Powered Music Concert (meenna-877), with Kinoshita, Tomoki Tai, Takumi Ikeda and Takuya Harashima; and Masamichi Kinoshita's Ftarri's Harmonium (meenna-873).
In 2011, Masamichi Kinoshita composed the piece "Andersen's Swan Song" (for baritone and flauto traverso)--with lyrics based on Kenji Miyazawa's serial tanka poem of the same name--on a commission for a solo recital by flutist Hidehiko Watase. This CD documents a 41-minute performance of this work by Hidehiko Watase on flauto traverso (an ancestor of the contemporary flute) and baritone Homei Kamie, held at a church in Tokyo in December 2012. Sadly, Homei Kamie passed away in 2015. This CD is dedicated to his memory.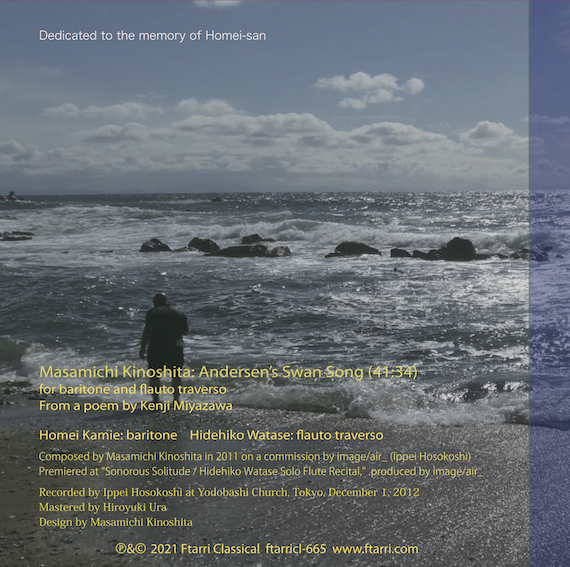 ---
Last updated: September 11, 2021
---