Ftarri / Ftarri Classical
Yuka Shibuya / Satoko Inoue
Works for Piano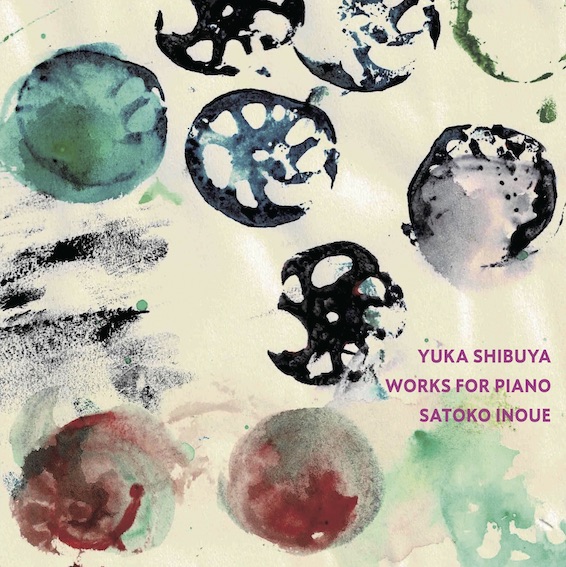 CD
ftarricl-666
Limited edition of 300
Out on September 12, 2021
Ftarri Bandcamp
---
Cosmetic Dance [2007]
A compass performing distorted steps (3:44)
Ever-changing words of a stranger (3:50)
By the waves swaying to and fro (2:43)
A melting candy rolling on the tongue (2:00)
Accumulation of sound, using repetition and limited pitches


Clouds Merging into the Sea, Islands Floating in the Sky 2 [2015] (10:05)
Getting as close as possible, and then inside--"Clouds Merging into the Sea, Islands Floating in the Sky" is a quartet for hichiriki, sho, shamisen and piano. The piano part serves as the base of the piece.

Containing Time [2016] for 2 pianos
(4:55)
(4:40)
Into the moment of time
Homage to Erik Satie
An Exploration of metrical structure and phrasing


View from the Round Window 2 [2018] (5:54)
Signs and spaces of "connection" are placed in the front through rests and pedaling, while sounds and phrases are set in the back--a time which is both enormously long and just a moment.

mp3 excerpt: track 1
mp3 excerpt: track 3
mp3 excerpt: track 5
mp3 excerpt: track 7
All compositions by Yuka Shibuya
Satoko Inoue: piano (1-8)
Masanobu Shinoda: piano (6, 7)
Recorded live at Tokyo Opera City Recital Hall, Tokyo, March 4, 2018
Recorded by nothing but music
Mastered by Shimon Ono
Cover Art by KIOKA
Track Notes by Yuka Shibuya (translation by Zon Samine)
Liner notes by Yuka Shibuya (translation by Cathy Fishman)
---
The four tracks on this album are piano pieces I composed between 2007 and 2018, performed by pianist Satoko Inoue. A live recording of a 2018 solo recital by Inoue-san has been newly mastered for this release.
The three tracks other than "Containing Time" are pieces I composed for Inoue-san. Around 2007, when I wrote "Cosmetic Dance," I often went to her concerts, as I liked the way she played. One day soon after I'd finished the composition, I went to hear her perform. After the concert, the composer Masamichi Kinoshita introduced me to Inoue-san and I handed her the just-completed score. This occasion led eventually to my writing "Clouds Merging into the Sea, Islands Floating in the Sky 2" and "View from the Round Window 2," and Inoue-san giving their premieres and repeat performances in Japan and other countries.
The composition methods for the four pieces varied--actually, they were quite different from one another. For instance, I used dice in composing "Cosmetic Dance," and for "Clouds Merging into the Sea, Islands Floating in the Sky 2" I took the piano part of an ensemble piece and rewrote it as a solo work. In "Containing Time" I applied an inverted metrical structure, while in "View from the Round Window 2" I made conscious use of pedaling and rests. At the foundation of these diverse compositional techniques, however, is a consistent and unchanging interest in the moment when sound vanishes. To capture this moment, I've committed myself to intentionally taking a multi-angled approach using different methods when composing works for piano. I listen to the moment when sound is vanishing even more closely than to the moment when sound is born. In the moment of vanishing, there's an instant when sound emerges. Sometimes it vanishes literally "instantly," and sometimes I feel that an instant contains an enormously long period of time. In some cases I don't feel the flow of time at all. In each work, the accumulation of these instants becomes the piece's characteristic time and a sort of closed world. If gathering and arranging four closed "times" in one CD results in a landscape that expands out from between these closed worlds, then I'll be quite happy. (Yuka Shibuya)
---
Ftarri has launched the sublabel Ftarri Classical, specializing in composed works in the contemporary classical genre. The label's first release is Works for Piano, by composer Yuka Shibuya and pianist Satoko Inoue. Yuka Shibuya was born in Kyoto in 1981. She graduated from the composition department of Tokyo University of the Arts and went on to receive a doctorate from that university's graduate school. Shibuya has participated in festivals and events inside and outside Japan--including the Takefu International Music Festival (Echizen, Fukui Prefecture), Quatuor Bozzini Presents: SALON TOKYO [2018] (Montreal), Thin Edge New Music Collective Presents: Ongaku [2019] (Toronto), and Music from Japan [2020] (New York)--through which her works have been performed by musicians from Japan and other countries. Kobe native Satoko Inoue is one of Japan's leading contemporary classical pianists. She was a member of Jo Kondo's Musica Practica Ensemble, and started her solo career in 1991. Inoue appears in festivals and performs solo recitals in Japan and countries throughout the world.
On March 4, 2018, Satoko Inoue held her annual piano recital in Tokyo and performed four pieces by Yuka Shibuya--"Cosmetic Dance" (2007), "Clouds Merging into the Sea, Islands Floating in the Sky 2" (2015), "Containing Time" (2016), and "View from the Round Window 2" (2018). This album documents those performances. The three tracks other than "Containing Time" were written by Shibuya for Inoue. "Containing Time," a piece for two pianos, was performed with guest artist Masanobu Shinoda (piano).
While it contains four pieces, the CD is made up of eight tracks, as "Cosmetic Dance" is divided into four parts and "Containing Time" into two parts. Liner notes by Yuka Shibuya (in Japanese and English) are included.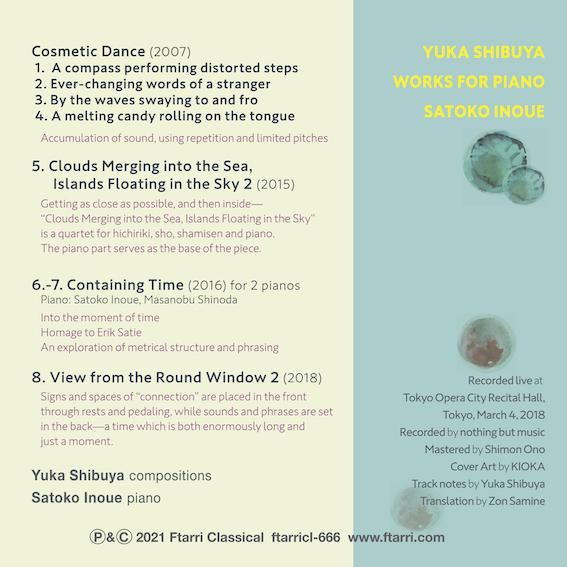 ---
Last updated: September 11, 2021
---