Ftarri / Ftarri
Atsuko Hatano / Ryotaro Miyasaka
Dinosaur and Gems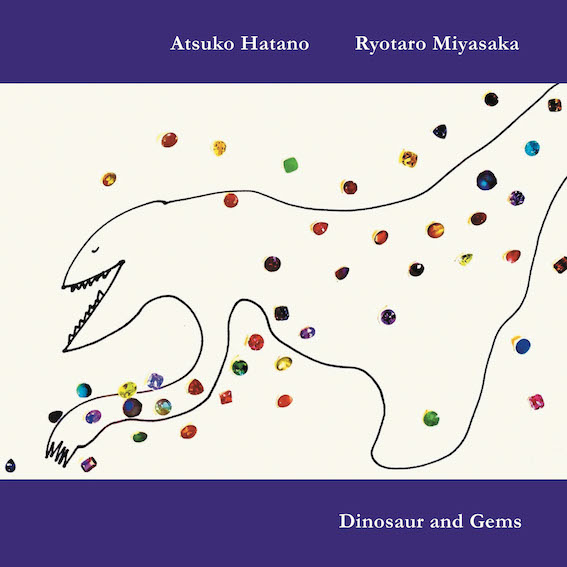 CD
ftarri-956
Limited edition of 200
Out on August 13 2023
Ftarri Bandcamp
---
🦕 (21:36)
💎 (29:32)

mp3 excerpt: track 1
mp3 excerpt: track 2
Atsuko Hatano: viola, electronics
Ryotaro Miyasaka: percussion
Recorded live at Ftarri, Tokyo, February 27, 2023
Recorded by Ftarri
Mixed bv Atsuko Hatano
Mastered by Hiroyuki Ura
Artwork by Ryotaro Miyasaka
Design by Cathy Fishman
---
Atsuko Hatano plays viola, violin and cello; she also uses electronics. She has released numerous albums and attracted a great deal of attention both inside and outside Japan. Hatano also creates music for movies, TV dramas and commercials. She frequently collaborates with other musicians and artists, including Jim O'Rourke and Eiko Ishibashi.

Ryotaro Miyasaka, a percussionist active in genres ranging from pop to experimental music, has been extremely busy of late. In 2022, he released the CD Odd Jobs Are the High Road of Work (ftarri-967), an improvised duo performance with guitarist Tetuzi Akiyama, on the Ftarri label.

Dinosaur and Gems documents a duo concert held at Ftarri on February 27, 2023. The two tracks on this album (21 and 29 minutes) show Hatano (viola and electronics) and Miyasaka (percussion) crossing swords furiously, but at times playing calmly and in perfect synch.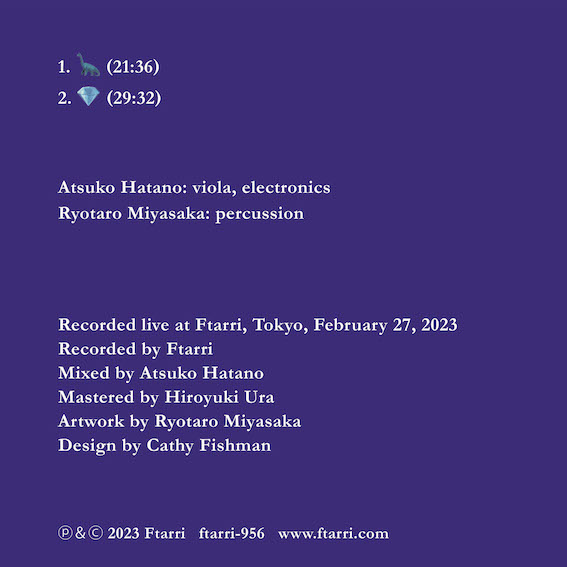 ---
Last updated: August 26, 2023
---