Ftarri / Ftarri
Wakana Ikeda / Stefan Thut
afar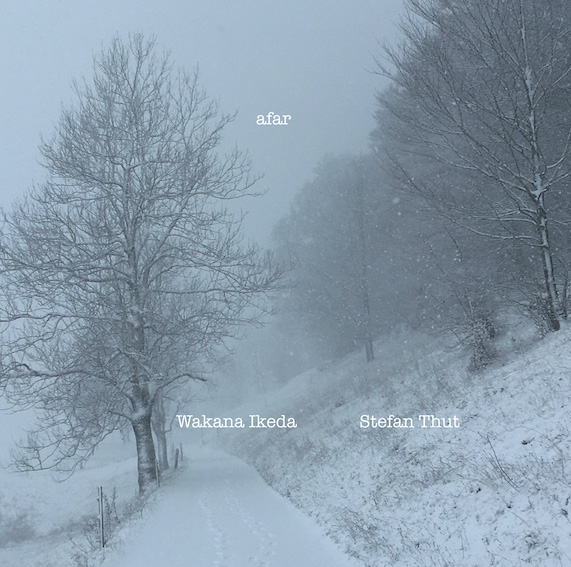 CD
ftarri-968
Limited edition of 200
Out on December 12, 2021
Ftarri Bandcamp
---
afar (35:33)

mp3 excerpt: track 1
Wakana Ikeda: flute
Stefan Thut: cello
Curated by Wakana Ikeda
Recorded live by Stefan Thut at Nanahari, Tokyo, October 3, 2019
Edited by Wakana Ikeda and Stefan Thut
Photo by Stefan Thut
Design by Cathy Fishman
---
Liner notes by Stefan Thut
The notes forming the 72 fragments of the score "afar" are transcribed from a composition by Johannes Ciconia (c.1370-1412), precisely from the motet "O padua, sidus praeclarum." As opposed to copying an entire work, I cut out all of the syllabic content, word for word, leaving aside the long melismatic trails. Ciconia must have been an eminent figure for the development of a new contrapuntal style in Europe. His technique is not yet homogenous regarding compositional rules compared to those of other composers to follow. Through his originality and variation in polyphonal writing, for me he is an admirable figure. Together with the fine flute player and composer Wakana Ikeda, we have had the pleasure to experience Ciconia's intertwined particles in a new light and pace. What counts for me here is the feeling for playing next to each other rather than matching a fixed contrapuntal structure.
---
Wakana Ikeda is a flute player based in Tokyo. Her activities range widely, from performances of composed works to improvised music to pop. In spring 2016 she formed the Suidobashi Chamber Ensemble together with Yoko Ikeda (viola), Aya Naito (bassoon), Masahiko Okura (clarinet, bass clarinet), and Taku Sugimoto (guitar). That year the album Suidobashi Chamber Ensemble, featuring their performances of works by Wandelweiser composers, was released on the Meenna label.

Stefan Thut is a composer and cellist residing in Solothurn, Switzerland. While touring Europe in autumn 2017, Wakana Ikeda, Yoko Ikeda, Taku Sugimoto and Minami Saeki (voice) made a recording in Solothurn with Stefan Thut and another Swiss composer, Manfred Werner. That recording became the CD Sextet, which was released on Meenna the following year.

Stefan Thut visited Japan in autumn 2019 and performed a number of concerts. On October 3, he appeared with Wakana Ikeda at Nanahari in Tokyo. This CD's only track documents the 35-minute performance of "afar" presented at that concert by Ikeda on flute and Thut on cello. Composed by Thut in 2019, "afar" has as its underlying foundation of the composition "O Padua sidus praeclarum," by the medieval Italian composer Johannes Ciconia.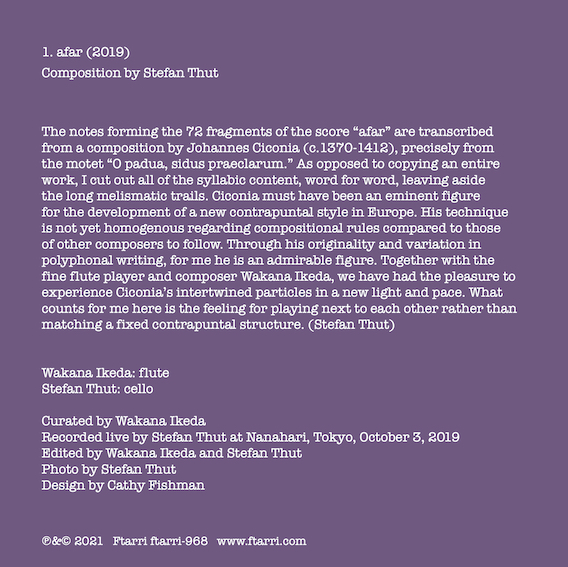 ---
Last updated: December 2, 2021
---