Ftarri / Ftarri
Hideki Umezawa + Shohei Amimori
Critical Garden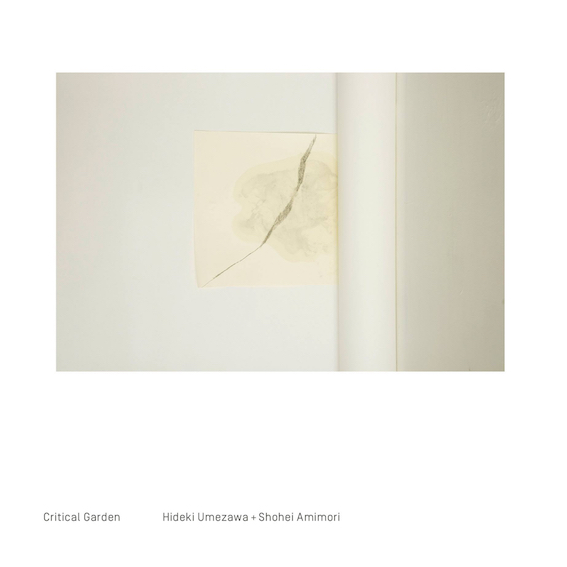 CD
ftarri-976
Limited edition of 300
Out on December 13, 2020
Ftarri Bandcamp
---
Circle I (2:42)
Composed by Shohei Amimori, 2015


débris dans le jardin I (6:55)
Composed by Shohei Amimori, additional production by Hideki Umezawa, 2014


débris dans le jardin II (5:00)
Composed by Hideki Umezawa and Shohei Amimori, 2015
The Prize ACSM116 at CCMC2015, awarded by Régis Renouard Larivière


débris dans le jardin III (4:10)
Composed by Hideki Umezawa, 2015, selected work for Ina-GRM / Banc d'Essai 2015


Painted Wall (5:12)
Reworked by Shohei Amimori, 2014, original track by Hideki Umezawa, 2013


cracked_oriented; frz (1:03)
Composed by Shohei Amimori, additional production by Hideki Umezawa, 2016


Circle II (6:23)
Composed by Shohei Amimori, 2015

mp3 excerpt: track 2
mp3 excerpt: track 3
mp3 excerpt: track 4
mp3 excerpt: track 5
mp3 excerpt: track 7
Mastered by Makoto Oshiro
Design by Tadao Kawamura
Artwork and photo by Kenshu Shintsubo
---
Sound artist Hideki Umezawa was born in 1986. In addition to his work in Japan, he carries out numerous activities overseas, including the performance of works at INA-GRM (Institut National Audiovisuel - Groupe de Recherches Musicals), one of France's leading music research institutions, and a residency at EMS (Elektronmusik Studion), an electroacoustic/sound art facility in Stockholm. He released the solo CD Suido-Kan on the American label and/OAR in 2012, and re/ports, a duo CD with Yoichi Kamimura, on the Ftarri label in 2019.

Shohei Amimori (born in 1990) started composing contemporary music as a university student. He has written many works in formats ranging from chamber to orchestral music. His recent work has crossed diverse genres, from pop music to sound art. In addition to presenting and performing works in various expressive formats, he has created music for commercials and TV programs, and participated in many artists' projects as a studio/live musician. Amimori has released the two solo albums SONASILE (ROGRESSIVE FORrM, 2016) and PataMusic (noble, 2018).

This album is a collection of seven pieces created collaboratively by Hideki Umezawa and Shohei Amimori between 2013 and 2016. The first and last tracks, "Circle I" and "Circle II," are lyrical solo piano pieces by Amimori. In between are two pieces composed by Amimori ("débris dans le jardin I," "cracked_oriented; frz"), two composed by Umezawa (débris dans le jardin III," "Painted Wall"), and one that they composed together ("débris dans le jardin II"). Umezawa put finishing touches on the two compositions by Amimori, and Amimori did the same on Umezawa's original work "Painted Wall."

Umezawa's composition "débris dans le jardin III" was performed at Banc d'Essai 2015, organized by INA-GRM. The jointly created work "débris dans le jardin II" won Le Prix ACSM116 at the electronic sound/music concert CCMC 2015.

The recording was mastered by Makoto Oshiro. The CD design is by Tadao Kawamura, and the artwork is a photo by Kenshu Shintsubo of her own drawing.
---
Last updated: December 15, 2020
---