Ftarri / Hitorri
Kazuo Imai / Roger Turner
Molecules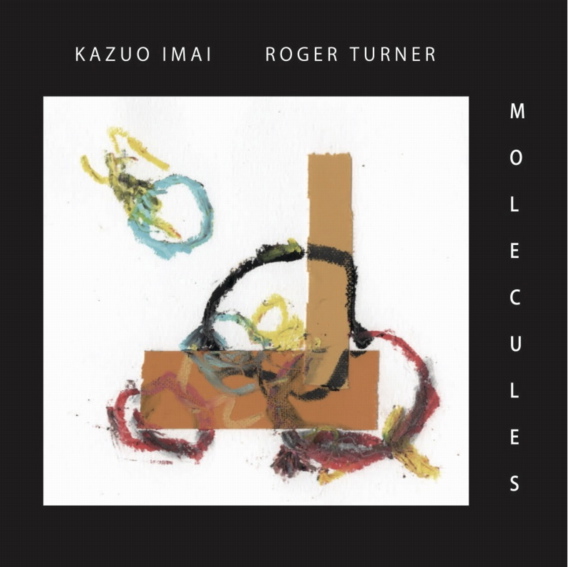 2-CD set
ftarri-983
Limited edition of 400
Out on June 24, 2018
Purchase price in Japan: 2,000 yen (tax not included)
(For purchase outside of Japan, prices vary.)
---
Disc 1
First Set (32:09)
Disc 2
Second Set (36:15)

mp3 excerpt: disc 1, track 1
mp3 excerpt: disc 2, track 1
Roger Turner: snare drum, tom tom, cymbals, metal, wood
Kazuo Imai: nylon string guitar

Recorded live by Shingo Matsuoka at Bar Isshee, Tokyo, October 11, 2017
Mastered by Takeshi Yoshida
Artwork by Roger Turner
Design by Cathy Fishman
Includes liner notes by Shingo Matsuoka in Japanese and English (translation by Alan Cummings)
---
This masterful performance was born of the meeting of two master improvisers, Kazuo Imai of Japan and Roger Turner of the UK. Imai, who studied with Masayuki Takayanagi and Takehisa Kosugi, is one of Japan's leading improvisers and guitarists. Turner is a drummer and percussionist who has been actively performing throughout the world since the beginning of the 1970s. His Japan tour in October 2017 included concerts with Japanese musicians in various locations, including his performance with Kazuo Imai at Bar Isshee in Tokyo on October 11. In this duo concert, Imai played one nylon string guitar, while Turner used only snare drum, tom tom, cymbals, metal and wood instead of setting up a complete drum set; and the sound was acoustic, without electric amplification. The overall sound is somewhat controlled, in keeping with the nylon string guitar volume; and within that context the musicians' interacting sounds are remarkably diverse, dynamic, and beautiful. The concert's first set (Disc 1, 32 minutes) and second set (Disc 2, 36 minutes) are documented in their entirety on this album.
---
Liner notes
Of the eleven dates that Roger Turner played in eastern Japan on his 2017 tour, his duo with Kazuo Imai in Sendagi, Tokyo was particularly outstanding. I was delighted to have been able to make a recording of the show. Predicting the correct recording levels for Roger's concerts can be tricky, as they often feature a huge variation in volume and performance style. But fortunately, the levels worked perfectly for this particular show.

There are many outstanding, individualistic percussionists in Europe, including of course Han Bennink, Paul Lytton, Tony Oxley, and Paul Lovens. But Roger's unique style, which is capable of awe-inspiring power as well as his characteristic long, beautifully sustained tones, is markedly original even in this company. Roger has also developed an array of extended techniques including striking or rubbing his drum sticks together. These are deployed not solely for visual appeal during performance, but for their fascinating acoustic qualities as well. Imai is equally astonishing, creating a whole tonal universe on just a single nylon-strung acoustic guitar, and never getting buried in the variegated sounds created by Roger's percussion arsenal and his extended techniques.

It is very unusual to have a nylon-strung guitar and drum duo (though Roger refrained from using his bass drum) where a microphone has not been used to amplify the sound of the guitar to better balance the sound. As I already mentioned, one of the characteristics of Roger's musical approach is his subtle use of sustain. This recording was made possible by that sustain, in combination with his exquisite dynamic control that matched the volume of the nylon-strung guitar and the tenacious attack of Imai's guitar style. I feel that the recording captures the intrinsic tonal palettes of these particular instruments, rather than exploring freaky or eccentric sounds.

Due to the constraints of the venue, the recording used a one-point stereo microphone (a Korg MR1000, recording to DSD at 5.6MHz) placed less than a metre away from both players. A slightly more distant microphone placement may have been preferable to make the most of this acoustically superlative performance. But at the same time, this approach permitted the capture of the full subtleties of the playing. There is proof here that the two musicians had no need to rely upon the reverb of the performance space, and that they were capable of creating the acoustics through their own performance.

Regarding appropriate playback volume for this recording, if you raise the volume to a point where the high-pitched tones caused by the rubbing of Roger's cymbal on his floor tom around the 11:30 mark become painful on the ear, then you will get close to the nuances of the actual performance. By nuances I mean, for example, the delicacy with which Roger controls the sound right up to the final instant of his sustain, and the sureness of his grasp of the dynamic shifts.

The recording is 68 minutes long, so it would have been possible to include all of it on a single CD. However, Roger opted for a two CD set because he wanted to emphasize the difference in effect between the first and second set, a difference that he was immensely taken with. I believe that this difference had less to do with any conscious decisions by the performers, and more to do with the fact that the first set was the first time Imai and Roger had ever played together and so there was a great leap forward between the two sets. I have great hopes for the future development of this duo.
Shingo Matsuoka
Translation by Alan Cummings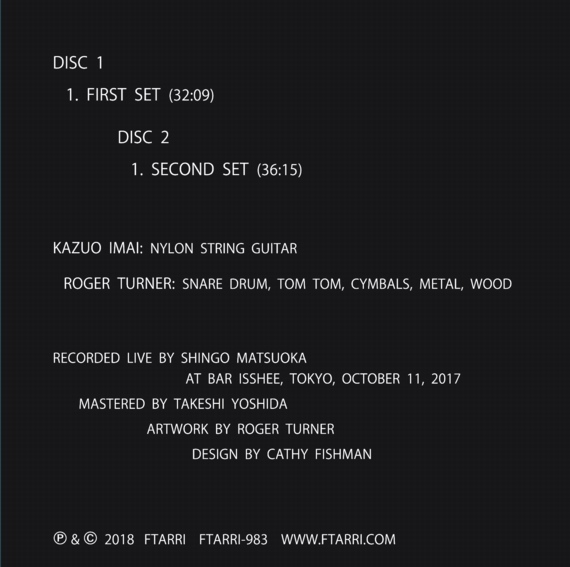 ---
Last updated: June 16, 2018
---