Ftarri / Ftarri
Mazen Kerbaj / Toshimaru Nakamura
East of Where?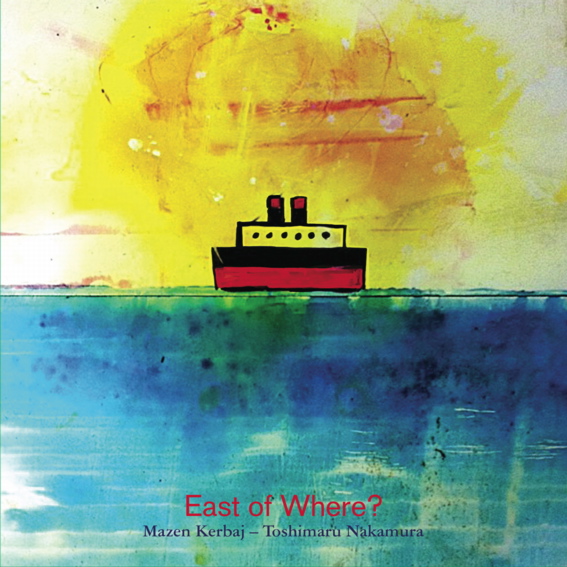 CD
ftarri-986
Limited edition of 300
Out on December 31, 2017
Purchase price in Japan: 1,500 yen (tax not included)
(For purchase outside of Japan, prices vary.)
---
East of the Middle-East (16:45)
Mild East and Hard East (19:11)
West of the Far-East (5:44)

mp3 excerpt: track 1
mp3 excerpt: track 2
mp3 excerpt: track 3
Mazen Kerbaj: trumpet
Toshimaru Nakamura: no-input mixing board

Recorded, mixed, and mastered by Toshimaru Nakamura
Recorded at Yan Jun's studio, Berlin, November 14, 2016
artwork and design by Mazen Kerbaj
---
Toshimaru Nakamura, who uses a no-input mixing board--an instrument played by controlling the mixer feedback--is an improviser admired inside and outside Japan. Beirut-born trumpeter Mazen Kerbaj performs around the world and makes free use of extended playing techniques that produce sounds totally unlike the sounds that most people associate with the trumpet. This CD is comprised of three improvisational performances by Nakamura and Kerbaj, recorded in a studio in Berlin in November 2016. From murmuring exchanges of delicate soft sounds to big sonic give and take, this unique and amazing duo album demonstrates the two musicians' superior skill and sensibility.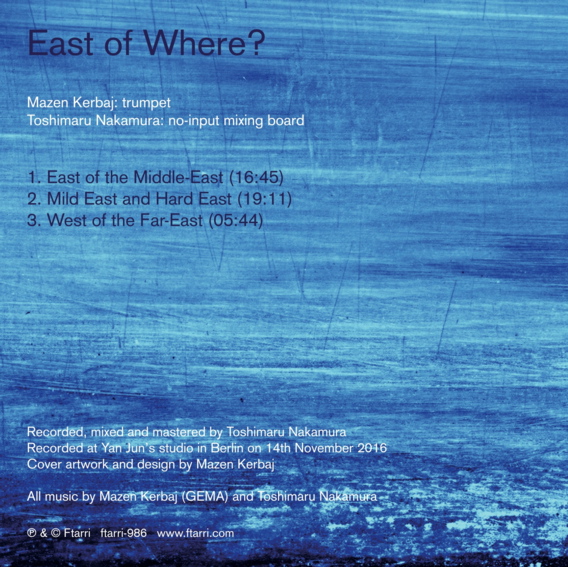 ---
Last updated: December 26, 2017
---