Ftarri / Ftarri Live
Masatake Abe / Yoshiki Ichihara
Live at Ftarri, October 3, 2021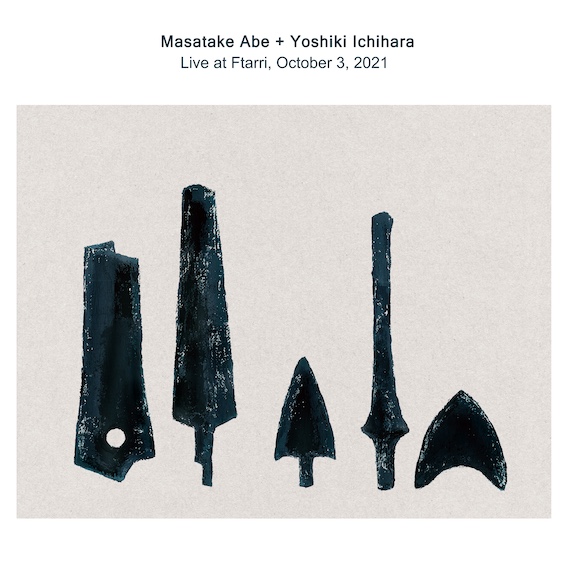 digital download
ftarrilive-546
Out on November 4, 2021
Ftarri Bandcamp
---
First Set 1(19:29)
First Set 2 (9:23)
Second Set (25:31)

mp3 excerpt: track 1
mp3 excerpt: track 2
mp3 excerpt: track 3
Masatake Abe: electric bass
Yoshiki Ichihara: synthesizer
Recorded live at Ftarri, Tokyo, October 3, 2021
Recorded by Ftarri
Mastered by Yoshiki Ichihara
Artwork by Leo Okagawa
---
Electric bass player Masatake Abe was born in 1993 in Fukushima Prefecture, and currently lives in Tokyo. Originally a jazz musician, he expanded his range of activity into free improvisation in 2018. Abe has been performing at Ftarri since his first appearance there in September 2020, in a trio concert with Kokichi Yanagisawa (guitar) and Fumi Endo (piano).

Yoshiki Ichihara lives in Tokyo. He initially launched a band as guitarist, but his interest later shifted to improvised/experimental music, and he has continued his musical creation and exploration using instruments including guitar, cello, synthesizer, field recordings, and Max/MSP. Ichihara first appeared at Ftarri in February 2021, in a duo concert with Beijing sound artist Jin Guo, and has since performed there a number of times.

This album documents a duo concert by Abe and Ichihara that took place at Ftarri on October 3, 2021. Although two sets were performed, there are three tracks on this CD, as the first set (which was nearly 30 minutes in length) is divided in two where there was an interval of silence.
---
Last updated: Novmber 4, 2021
---