Ftarri / Ftarri Live
Shibatetsu / Tomoki Tai / Kokichi Yanagisawa
Live at Ftarri, April 5, 2021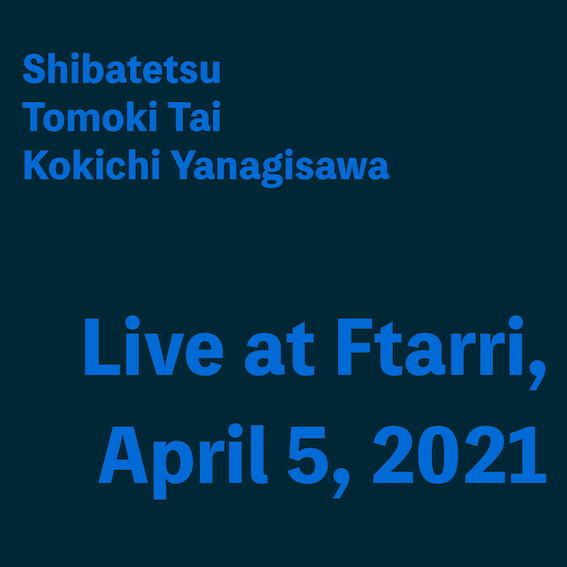 digital download
ftarrilive-550
Out on June 6, 2021
Ftarri Bandcamp
---
VARIANT (21:31)
Trio for Tai Yanagisawa Shibatetsu 2021/3/15 (22:53)
Kanji Compounds and Lines (19:15)

mp3 excerpt: track 1
mp3 excerpt: track 2
mp3 excerpt: track 3
Shibatetsu: upright piano, Bass Melodion
Tomoki Tai: cello
Kokichi Yanagisawa: electric guitar

Recorded live at Ftarri, Tokyo, April 5, 2021
Recorded and mastered by Ftarri
---
Track notes by the composers
VARIANT
This composition consists of four sound events produced by each performer: (1) a partial variation on an optional section of notated music and its repetition with a transformation, (2) the same as (1), but a partial variation on what other performers play, (3) a tacet carried out by a performer while listening to others' performances, (4) improvisation with harmonics performed while thinking of a variation. I was inspired by plant breeding, gene fixation, splicing, mutation, etc., and loosely translated them in order to perform music.


Trio for Tai Yanagisawa Shibatetsu 2021/3/15
Rather than a general-purpose piece, this is a work created for this particular occasion. I wrote a 20-minute composition on one sheet of A4-size paper, sent it and answered questions by e-mail; then the performance was held after just a short rehearsal the same day. Cello, electric guitar and upright piano plus Bass Melodion. Four sections of about five minutes each, for a total of 20 minutes; no stopwatch was used. Each section was made up of harmonics, high-pitched tones, loudness and silence, low-pitched tones. A piece both near and far from improvisation in which nothing is predetermined.


Kanji Compounds and Lines
In this piece, Chinese character (kanji) compounds are performed as music. For each kanji, one performer plays one stroke of the character. Attack timbres and reverberation tones are interpreted from the kanji. The Japanese katakana (phonetic syllabary) character (イロハニホヘト / i ro ha ni ho he to) or music note (レミソラシ / re mi so la ti) contained in the kanji forms are the note names (for example, in "術" the central katakana "ホ" = the E note). The following kanji compounds were performed: 雅楽/gagaku, 独学/dokugaku, 分電盤/bundenban, 従順/jujun, 柔道着/judogi, 乗馬場/jobajo, 膳所/zensho, 午前午後/gozengogo, 浄財/jozai, 脱獄/datsugoku, 準備/jumbi, 事実上/jijitsujo, 売買/baibai, 段段畑/dandanbatake, 大吟醸/daiginjo, 銀座/Ginza, 議事堂/gijido, 源氏蛍/genjibotaru, 解脱/gedatsu, 貧乏神/bimbogami, 男女平等/danjobyodo, 現代美術/gendaibijutsu, 牛丼大/gyudondai, 残骸/zangai, 座禅/zazen, 便乗/binjo.
---
Shibatetsu was born in Tokyo in 1959. He has been active as a pianist/melodica player, improviser and composer since the 1980s. His solo CD Plastic Pneuma, documenting an improvised melodica performance, was released on the Hitorri label (hitorri-992) in 2016.

Cellist Tomoki Tai was born in Osaka in 1982. In addition to classical music, he performs improvisation and occasionally uses self-made electric instruments. The CD Electric Powered Music Concert, a performance by the improvised noise project consisting of Tai (on self-made electronic instrument), Masamichi Kinoshita and Takumi Ikeda, was released on the Meenna label (meenna-877) in 2018.

Born in 1990, guitarist Kokichi Yanagisawa lives in Matsumoto, Nagano Prefecture. He studied jazz in New York from 2013 to 2016. Since returning to Japan in 2017, he has been based in Nagano and also spends about a week in Tokyo once every month or two, playing jazz and improvisation. Yanagisawa also has a keen interest in contemporary classical music, and was awarded Premier Prix at the Luc Ferrari-related international competition Prix Presque Rien in 2017.

In a concert at Ftarri on April 5, 2021, Shibatetsu, Tomoki Tai and Kokichi Yanagisawa performed as a trio, playing one composition by each artist. All three pieces are presented on this album, in the order of their performance.
---
Last updated: June 5, 2021
---