Ftarri / Ftarri Live
Suomi Morishita / Yuma Takeshita / Takashi Masubuchi
Live at Ftarri, April 19, 2021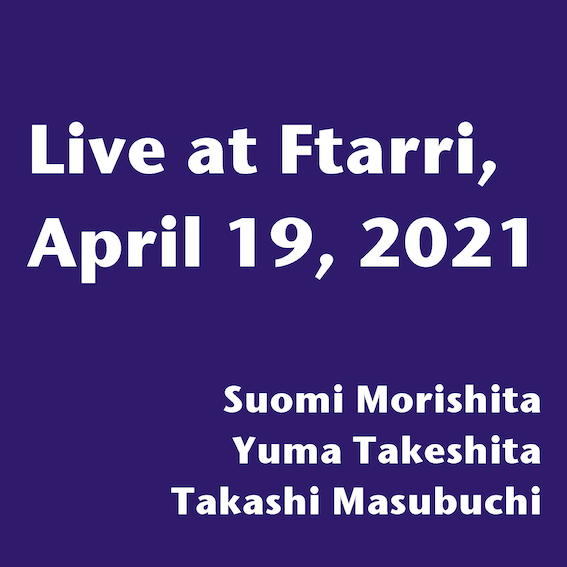 digital download
ftarrilive-551
Out on May 7, 2021
Ftarri Bandcamp
---
First Set (31:31)
Second Set (38:31)

mp3 excerpt: track 1
mp3 excerpt: track 2
Suomi Morishita: electric guitar, self-made instruments
Yuma Takeshita: Mechanized Instruments
Takashi Masubuchi: acoustic guitar

Recorded live at Ftarri, Tokyo, April 19, 2021
Recorded and mastered by Ftarri
---
Guitarist Suomi Morishita is active on the jazz and improvised music scene mainly in the Kansai region (including Osaka and Kyoto), playing in numerous groups. Also an accomplished composer, in 2021 he released the ambitious debut album Ein., comprised mostly of his own compositions. Morishita also visits Tokyo and performs with Tokyo-based musicians every few months.

This album documents Morishita's trio performance at Ftarri with Tokyo residents Yuma Takeshita and Takashi Masubuchi in April 2021, when Morishita was visiting Tokyo. Previously, Yuma Takeshita's instrument was a remodeled bass made from various small self-made devices placed on an electric bass body. Since 2020, instead of the modified bass, he has been creating sound using mainly what he calls "Mechanized Instruments"--a tabletop arrangement of several varieties of box-shaped devices. Mechanized Instruments is the instrument he used in this performance as well. Morishita's main instrument is electric guitar, but he's also adept at inventing and playing self-made instruments. In this concert he placed a combination of self-made hand-operated small objects on a tabletop and, in addition to playing guitar, produced soft, delicate acoustic clicking noises (especially on track 2). Takashi Masubuchi, positioned between Morishita and Takeshita, spun out phrases on acoustic guitar with his characteristic soft touch.

This album contains two complete improvisations (both over 30 minutes) performed at the concert on April 19, 2021.
---
Last updated: May 6, 2021
---