Ftarri / Ftarri Live
Leo Okagawa / Masatake Abe
Live at Ftarri, February 22 & March 1, 2021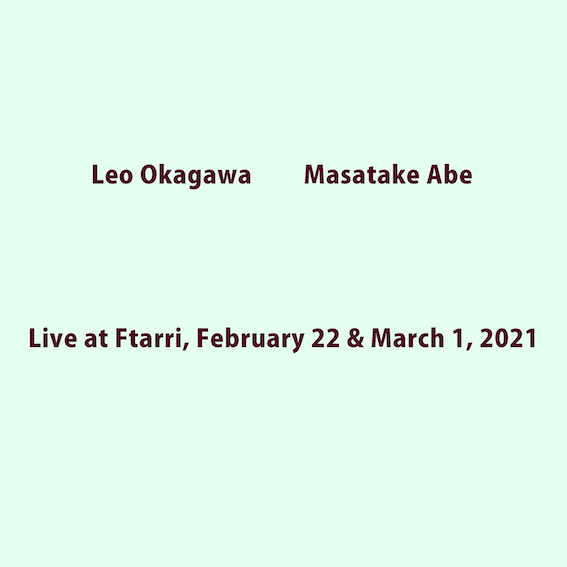 digital download
ftarrilive-552
Out on April 2, 2021
Ftarri Bandcamp
---
Trio with Yoko Ikeda (18:43)
Trio with Fumi Endo (24:41)

mp3 excerpt: track 1
mp3 excerpt: track 2
Leo Okagawa: electronics
Masatake Abe: electric bass

Yoko Ikeda: viola (1)
Fumi Endo: piano (2)

Recorded live at Ftarri, Tokyo, February 22 (1) and March 1 (2), 2021
Recorded and mastered by Ftarri
---
Tokyo-based sound artist Leo Okagawa, who started making field recordings in 2014, creates multilayered collage works from elements such as recorded environmental sounds, analog noise and electronic sound. His works include something veiled (Unfathomless, 2019) and Ulysses (Glistening Examples, 2020). Okagawa collaborates with a variety of musicians and labels in Japan and other countries, and has released several recordings. He started performing improvisation in 2017. With the electronics used in his creation process, he explores the structural possibilities of sound produced through the combination of simple tones. The CD in the quiet room (hitorri-886), a recording of a solo concert he performed at Ftarri, was released in 2019.

Born in Fukushima Prefecture in 1993, electric bass player Masatake Abe performs jazz and improvised music mainly in Tokyo. In 2017 he launched his own jazz group, influenced by drummer Paul Motian. Since then he has continued performing jazz, most frequently in a guitar trio with Tokutaro Hosoi (guitar) and Jiro Iwamoto (drums). Abe also developed a strong interest in improvised music, which he started performing in 2018. He has been appearing at Ftarri since he performed in a trio concert there with Kokichi Yanagisawa (guitar) and Fumi Endo (piano) in September 2020.

This album contains two performances by Okagawa and Abe recorded live at Ftarri in 2021. Both are trios--track 1 with viola player Yoko Ikeda (recorded February 22), and track 2 with pianist Fumi Endo (March 1).
---
Last updated: April 2, 2021
---