Ftarri / Ftarri Live
Yoko Ikeda / Fumi Endo
Live at Ftarri, January 4, 2021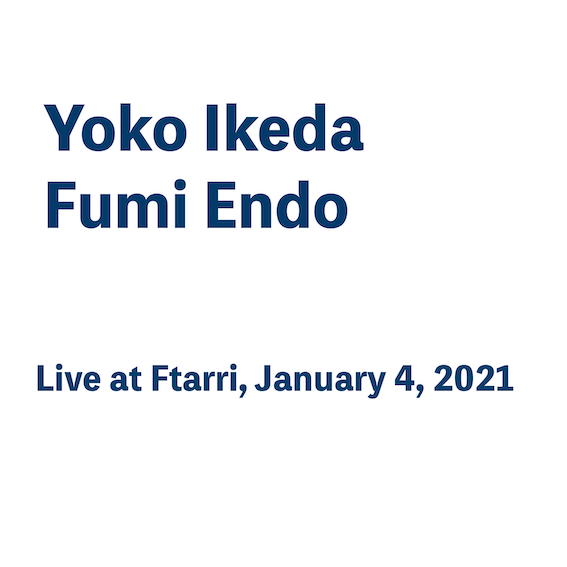 digital download
ftarrilive-555
Out on March 5, 2021
Purchase price: 850 yen
Ftarri Bandcamp
---
Duo 1 (18:55)
Duo 2 (17:37)

mp3 excerpt: track 1
mp3 excerpt: track 2
Yoko Ikeda: viola
Fumi Endo: uplight piano

Recorded live at Ftarri, Tokyo, January 4, 2021
Recorded and mastered by Ftarri
---
Yoko Ikeda is a violist/violinist residing in Tokyo. She started learning classical violin as a young child and began playing in bands in her mid-twenties. She later discovered improvised music and since then has focused on improvised performance. Ikeda is a member of Suidobashi Chamber Ensemble, which performs experimental compositions. Her CD releases include Shade (meenna-977, 2019), a trio with Yasumune Morishige (cello) and Takashi Masubuchi (guitar); Sextet (meenna-979, 2018), with Minami Saeki (voice), Wakana Ikeda (flute), Taku Sugimoto (guitar), Stefan Thut (cello) and Manfred Werder (glockenspiel, typewriter); and Suidobashi Chamber Ensemble (meenna-988, 2016) with Wakana Ikeda (flute), Aya Naito (bassoon), Masahiko Okura (clarinet, bass clarinet) and Taku Sugimoto (guitar).

Born in 1993 in Tokyo, where she now lives, Fumi Endo is a pianist who plays mainly jazz and improvised music. She began performing before audiences in 2017, and in 2019 she formed a band (of which she is leader) that performs jazz and original tunes. The year 2020 saw the launch of a duo with Endo and Masatake Abe (electric bass) and a trio with Endo, Abe and Kokichi Yanagisawa (guitar), projects that continue to gain momentum. She has been performing at Ftarri since her trio concert there with Yanagisawa and Abe in September 2020.

This recording documents the first concert collaboration of Ikeda (viola) and Endo (upright piano), which took place at Ftarri on January 4, 2021. The CD contains two improvised music sets, both a little under 20 minutes long.
---
Last updated: March 6, 2021
---