Ftarri / Ftarri Uta
Aoi Tagami
LIVE on October 26, 2020
(Ftarri Fukubukuro 2021, Vol. 1)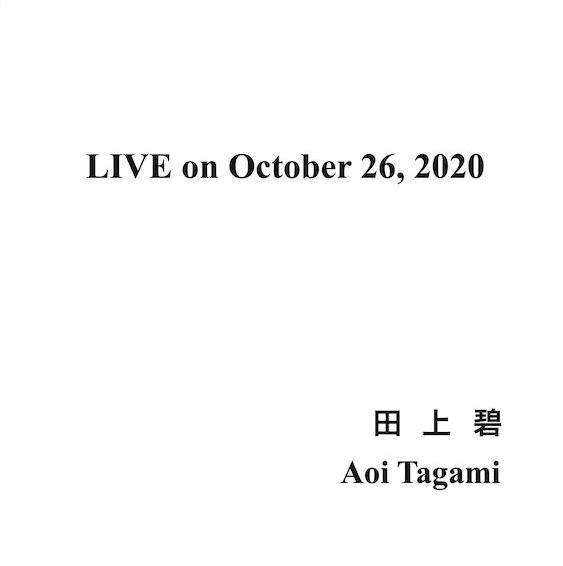 CD
ftarri uta 221
Limited edition of 160
Out on February 28, 2021
Ftarri Bandcamp
---
Forever Growing Antenna from One on the Ground (25:00)
The Lively Lovely Night (4:07)
The Terrace with a View (4:17)
The Invisible Sea and Summer (7:17)
Under My Umbrella (4:21)

mp3 excerpt: track 1
mp3 excerpt: track 3
mp3 excerpt: track 4

All words and music by Aoi Tagami, except track 5 - music by Aoi Tagami and yoshikimasuda
Aoi Tagami: vocals, guitar
yoshikimasuda: piano (4, 5), backing vocals (4, 5)
Recorded live by yoshikimasuda at Ftarri, Tokyo, October 26, 2020
Mastered by Hiroyuki Ura
---
Aoi Tagami is a voice performer active in the Tokyo area. In addition to vocalization combining myriad elements both light and dark, she occasionally gives bold spoken-word performances. Tagami is also an excellent singer. As a talented singer-songwriter, she performs her own songs while playing the guitar.

Tagami's many unique qualities and abilities were brought together in the creation of this album's first track, "A Forever Growing Antenna from One on the Ground." This ambitious 25-minute work tells a touching story through the combination of singing, speaking, guitar and voice.

Tracks 2 to 5 (the final track) fully demonstrate Tagami's rare talent as both a singer and a composer. In "The Lively Lovely Night" (2) and "The Terrace with a View" (3), she plays guitar as she sings. In "The Invisible Sea and Summer" (4) and "Under My Umbrella" (5), guest yoshikimasuda plays piano and contributes backing vocals. His astute support gives the performances even greater breadth and depth.

All tracks are from a concert held at Ftarri, Tokyo, on October 26, 2020. Lyrics are all by Tagami. Compositions are by Tagami (tracks 1-4) and by Tagami and yoshikimasuda (track 5 only).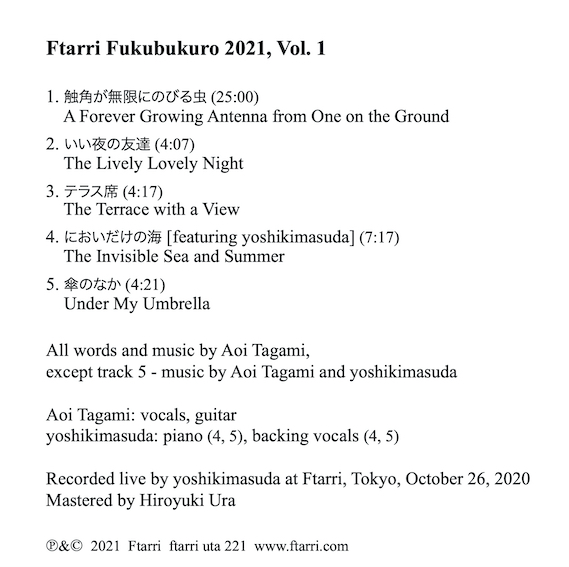 ---
Last updated: February 27, 2021
---