Ftarri / Hitorri
Seijiro Murayama
mi-tai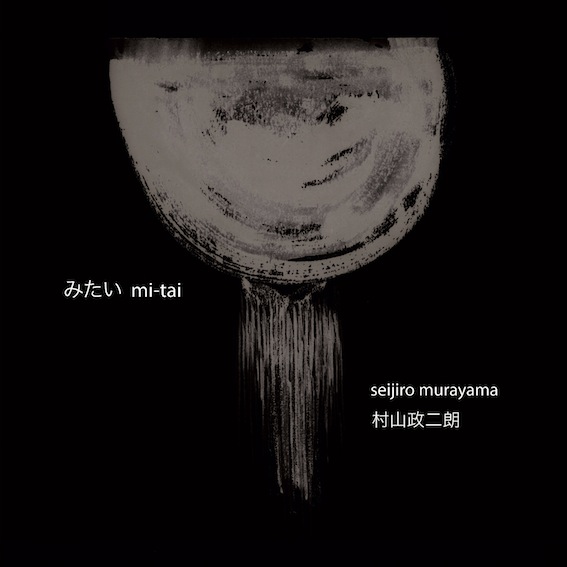 CD
hitorri-980
Limited edition of 300
Out on May 31, 2020
Purchase price in Japan: 1,500 yen (tax not included)
(For purchase outside of Japan, prices vary.)
---
do-tai 1 (6:35)
do-tai 2 (5:23)
do-tai 3 (14:31)
in-tai 1 (21:17)
in-tai 2 (3:16)
in-tai 3 (7:06)
shin-tai 1 (11:19)
Seijiro Murayama: snare drums, mallets, brushes, voice, steel tables, gong
Solo percussion by Seijiro Murayama 2019
Tracks 1-3 recorded by Shinichi Watanbe
Painting by Lala Reich
Special thanks to: la Cuisine, centre d'art et de design, Dominique Collignon Maurin
---
Seijiro Murayama is a drummer/percussionist and improviser/composer living in Paris. Since around 2017 he's focused on creating electro-acoustic works using recordings of his own improvisations. The results of these efforts have been released as two highly praised solo albums from the Hitorri label: Downdate (hitorri-986, 2017) and The Empire of Slip of the Tongue (hitorri-984, 2018). In an about-face from these earlier releases, his new album, Mi-tai, consists of eight improvisational performances on percussion. It's as if Murayama were returning to his point of origin with this release.
Here's a rundown of the instruments and recording locations of the eight tracks.
Tracks 1-3: 10-inch snare drum, mallets, brushes. Track 2 includes Murayama's vocal accompaniment. Recorded at a private home in Mishima city, Japan.
Track 4: Two semicircular steel tables that were not made as musical instruments (the two tables form a complete circle). Recorded during a residency at an art museum in France, in the museum's library.
Track 5: 14-inch snare drum without snare wires. Recorded at a theatre in France during a practice break.
Tracks 6-8: Gong of unknown origin (6), 10-inch snare drum (7, 8). Recorded in a practice room outside Paris.
Mi-tai is the first of two albums in which Murayama attempts to give a comprehensive account of his improvisation on percussion and drum set--his "principal occupation," so to speak--in this moment in time. This is a chance to experience the amazing creativity that sets Murayama apart from other percussionists/drummers.
---
"Since around 2017, I'd been concentrating on electro-acoustic composition, with my own recordings of my solo performances as material. To go on to the next step in composition it became necessary to delve further into my compositional methods; additionally, there was a transformation in my way of thinking about improvisation itself. The first of the resulting trial-and-error processes is this recording. The second is a recording of performances on drums." (Seijiro Murayama)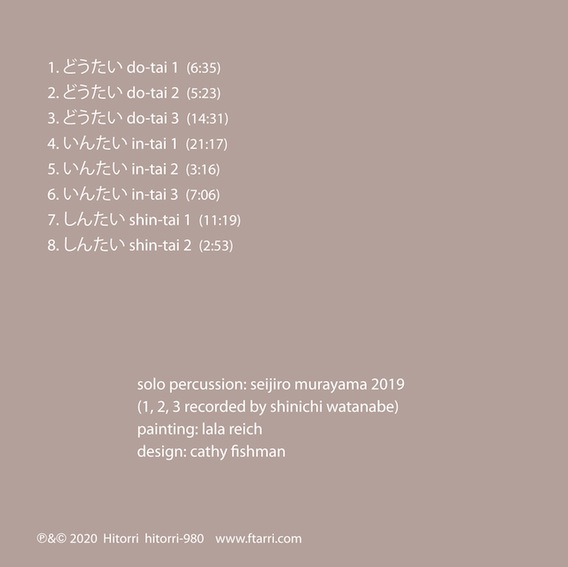 ---
Last updated: June 4, 2020
---