Ftarri / Meenna
Masamichi Kinoshita
Ftarri's Harmonium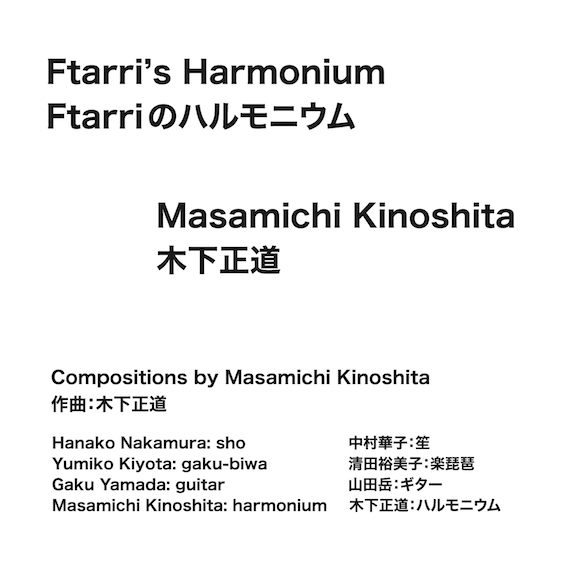 CD
meenna-873
Numbered limited edition of 200
Out on September 6, 2020
Purchase price in Japan: 1,500 yen (tax not included)
(For purchase outside of Japan, prices vary.)
---
47/19=2 . 9/19 (19:37)
Count to 11!! (8:27)
17 Melodies, 13 Sustained Sounds, 1 Silence (22:10)

mp3 excerpt: track 1
mp3 excerpt: track 2
mp3 excerpt: track 3
All compositions by Masamichi Kinoshita

Hanako Nakamura: sho
Yumiko Kiyota: gaku-biwa
Gaku Yamada: guitar
Masamichi Kinoshita: harmonium
Recorded live at Ftarri, Tokyo, March 14, 2020
Recorded and mastered by Masamichi Kinoshita
---
Track notes by Masamichi Kinoshita (translation by Cathy Fishman)
1. 47/19=2 . 9/19 (19:37)
I prepare a grid of 49 squares (7 x 7). I black out two of the squares to make a grid of 47, and fill in the grid with a previously created random sequence made up of numbers from 1 to 19. I apply each of 19 prearranged sound fragments to the corresponding numbers. The resulting score is played first in the usual way, and after that with the musicians looking at the score in a spiral-like pattern. For each musician I determine a different method for creating a spiral.
2. Count to 11!! (8:27)
While individually counting to 11, each musician sets down sounds in such a way that the sounds gradually increase.
3. 17 Melodies, 13 Sustained Sounds, 1 Silence (22:10)
I create a rather long original melody. I break this melody down into 17 melodies, like a series of nesting boxes, and adjust them to suit the special characteristics of the guitar and the gaku-biwa. For the sho and harmonium, I prepare 13 chord connections similar to a continuous musical fifth, and these are redistributed over a performance time of about 22 minutes.
---
Why is there a harmonium (reed organ) at Ftarri? It all goes back to the Ftarri Festival held in Tokyo in November 2019. A quartet made up of Klaus Lang (harmonium), Johnny Chang (violin), Samuel Dunscombe (bass clarinet) and Michiko Ogawa (clarinet) was planned for the festival's final day, so Ogawa quickly purchased a used harmonium for Lang. As she lives in Berlin, Ogawa and Ftarri decided that the harmonium would be housed there temporarily and used in Ftarri concerts.

Composer Masamichi Kinoshita, who often performs at Ftarri, was interested in holding concerts featuring the harmonium. He planned the series "Ftarri's Harmonium," the first concert of which took place in February 2020. The second concert, on March 14, was performed by Kinoshita and three other musicians, and it was decided that three pieces composed for the concert by Kinoshita would be released on an album. Composer Masamichi Kinoshita was born in Fukui Prefecture in 1969. He has long been known for his diverse and fascinating musical activities--in addition to composing many pieces each year, with a particular focus on chamber music, he plans concerts and performs improvisation using junk electronics.

For the second concert of the "Ftarri's Harmonium" series, Kinoshita invited three energetic musicians active in the fields of gagaku (traditional Japanese court music) and contemporary music--Hanako Nakamura (sho), Yumiko Kiyota (gaku-biwa) and Gaku Yamada (guitar)--and Kinoshita himself played the harmonium. This CD is made up of three pieces composed by Kinoshita and performed by all four musicians--"47/19=2 . 9/19" (19 minutes), "Count to 11!" (8 minutes), and "17 Melodies, 13 Sustained Sounds, 1 Silence" (22 minutes). Through the combination of Japanese/western stringed instruments with Japanese/western instruments producing sustained tones, compositional structures highlighting the special qualities of the harmonium and other instruments--as well as the musicians' superb performances--can be savored to the fullest in this endlessly fascinating album.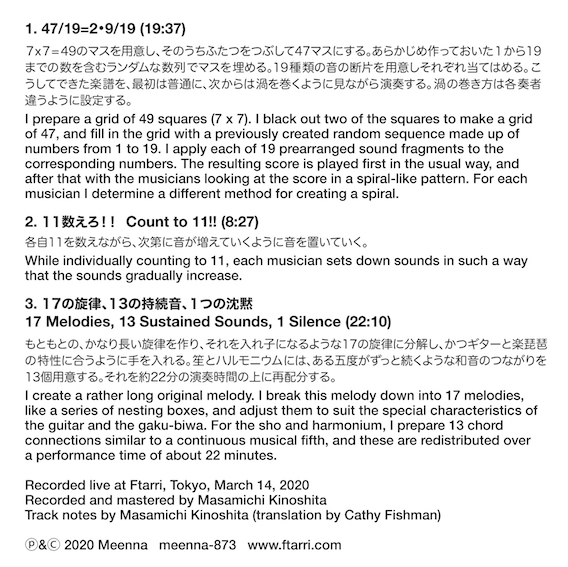 ---
Last updated: September 2, 2020
---