Ftarri / Meenna
Magnus Granberg / Ordinary Affects
Come Down to Earth Where Sorrow Dwelleth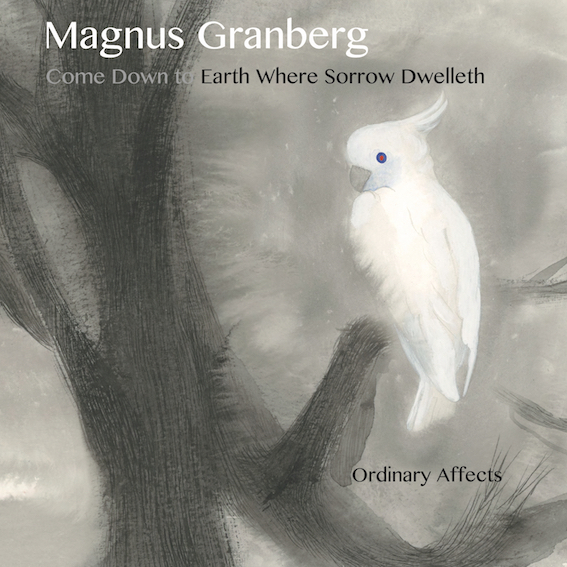 CD
meenna-970
Limited edition of 300
Out on July 12, 2020
Purchase price in Japan: 1,500 yen (tax not included)
(For purchase outside of Japan, prices vary.)
---
Come Down to Earth Where Sorrow Dwelleth (75:29)
mp3 excerpt: track 1
Ordinary Affects
Morgan Evans-Weiler: violin
Laura Cetilia: cello
Luke Martin: electric guitar
J.P.A. Falzone: vibraphone

Magnus Granberg: prepared piano
Composed by Magnus Granberg

Recorded by Luke Damrosch at Wesleyan University, Middletown, Connecticut, on April 7, 2019
Mixed and mastered by Luke Damrosch
Artwork and design by tanabemse
---
Magnus Granberg is a composer/musician living in Stockholm. Through experimental music ensembles/projects such as his own group Skogen (which he has led since 2005), Ordinary Affects, Ensemble Grizzana and Insub Meta Orchestra, he has produced outstanding works revealing new compositional possibilities. Performances of his compositions have been released on various labels, chiefly the UK's Another Timbre. Granberg has earned a great deal of international attention and critical praise. In November 2019, he came to Japan for the first time to perform at Ftarri Festival, where he presented a revised version of his work "Come Down to Earth Where Sorrow Dwelleth" in a performance by four musicians (including himself) on sho, koto, piano and electronics.

Granberg originally wrote this work for the Boston-based experimental ensemble Ordinary Affects, which has an established reputation for performing works by contemporary composers such as Wandelweiser artists Antoine Beuger, Jürg Frey, Eva-Maria Houben and Michael Pisaro, as well as Christian Wolff, Ryoko Akama and others. Their repertoire also includes composed works by each of the Ordinary Affects members, as well as improvisation. They performed two works by Bruno Duplant on his album deux songes (les jours sont faits pour expliquer les nuits) (meenna-976), released on the Meenna label in 2019.

In early April 2019, seven months before Ftarri Festival 2019, the world premiere of "Come Down to Earth Where Sorrow Dwelleth" took place on a small-scale U.S. tour carried out by Ordinary Affects with guest Magnus Granberg. This CD contains a 75-minute performance recorded at the end of the tour, at Wesleyan University in Middletown, Connecticut. The five performers are Morgan Evans-Weiler (violin), Laura Cetilia (cello), Luke Martin (electric guitar), J.P.A. Falzone (vibraphone) and Magnus Granberg (prepared piano). From start to finish, the solemn and mysterious sound is haunting and poignant. The special qualities of Magnus Granberg's composition style and Ordinary Affects' performance style are fully exhibited in this masterpiece.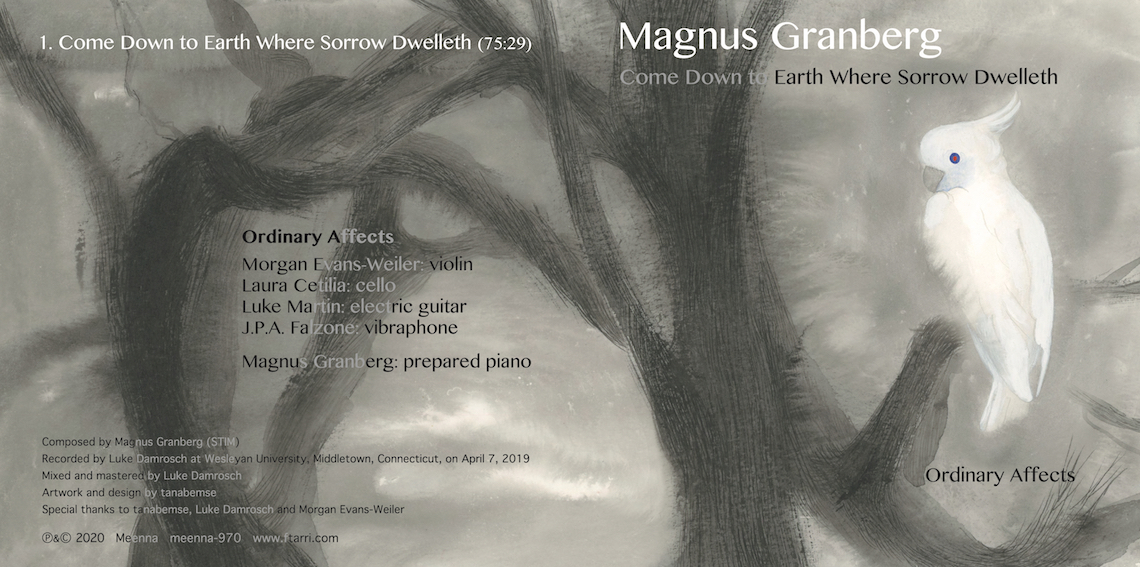 ---
Last updated: July 4, 2020
---