Ftarri / Meenna
Bruno Duplant
deux songes
(les jours sont faits pour expliquer les nuits)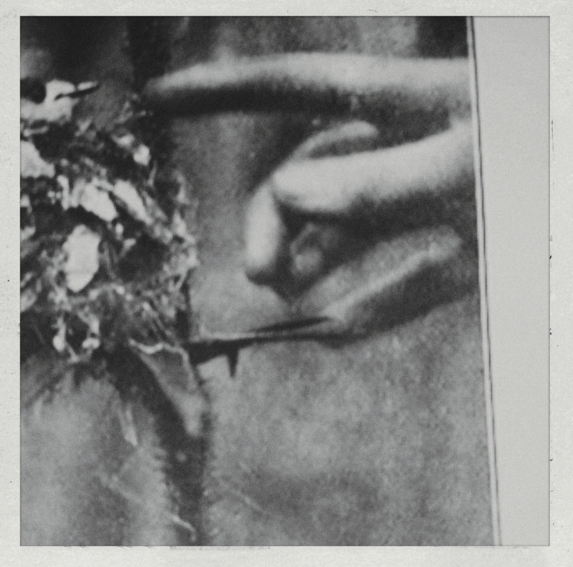 CD
meenna-976
Limited edition of 300
Out on April 21, 2019
Purchase price in Japan: 1,500 yen (tax not included)
(For purchase outside of Japan, prices vary.)
---
un lieu des souvenirs (quintet) (21:00)
le rêve de la nuit (string quartet) (26:00)

mp3 excerpt: track 1
mp3 excerpt: track 2
Ordinary Affects
Laura Cetilia: cello (1, 2)
Jordan Dykstra: viola (1, 2)
Morgan Evans-Weiler: violin (1, 2)
J.P.A. Falzone: Fender Rhodes (1)
Luke Martin: guitar (1)
Ashley Frith: viola (2)
All composed by Bruno Duplant
All performed by Ordinary Affects
Recorded by Luke Damrosch (1) and Luke Moldof (2)
Mixed and mastered by Luke Damrosch (1) and Jordan Dykstra (2)
---
French musician Bruno Duplant is one of the most talked-about artists on the experimental music scene today. In recent years he's presented many outstanding composed pieces and released a succession of excellent recordings on labels around the world. The abundance and vitality of his work are remarkable.

On this album, two compositions by Duplant are performed by Ordinary Affects, led by Boston-based musician/composer Morgan Evans-Weiler. Ordinary Affects is an experimental music ensemble with an established reputation for performing works by contemporary composers such as Christian Wolff, Antoine Beuger, Michael Pisaro, Jürg Frey, and Kyoko Akama. Track 1 (21 minutes) is a quintet and Track 2 (26 minutes) is a string quartet. The performers are Laura Cetilia (cello), Jordan Dykstra (viola), Morgan Evans-Weiler (violin), J.P.A. Falzone (Fender Rhodes, Track 1 only), Luke Martin (guitar, Track 1 only), and Ashley Frith (viola, Track 2 only).

Each piece has a highly controlled, spacious tempo throughout. The sounds' overlapping and their successive emergence have a dreamlike quality that gently beckons the listener into a state of abstraction. Bruno Duplant's talent and originality as a composer and Ordinary Affects' excellence as performers are fully on display in this superb recording.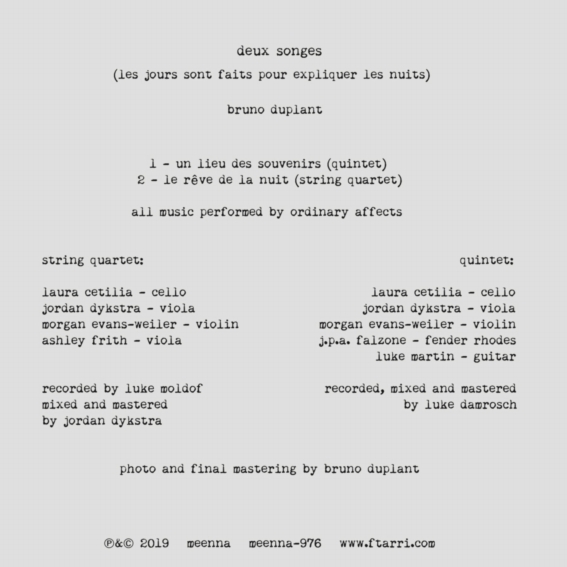 ---
Last updated: April 13, 2019
---